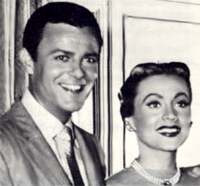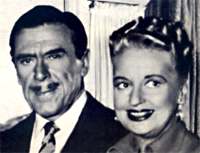 Topper Cast

Leo G. Carroll as Cosmo Topper
Anne Jeffreys as Marion Kerby
Robert Sterling as George Kerby
Lee Patrick as Henrietta Topper
Thurston Hall as Mr. Schuyler
Topper was a television situation comedy series based on the 1930s film series Topper.

The thrust of the story is that the sophisticated Cosmo Topper (Leo G. Carroll) is vice-president of a bank. He is married to the sweet but somewhat dumb Henrietta (Lee Patrick). They live in a house in a Los Angeles suburb that they bought from the estate of a fashionable young couple, George and Marion Kerby (Robert Sterling and Anne Jeffreys), now-former clients of Topper's bank, who died after being swept away by an avalanche. Their St. Bernard, Neil, who was unable to rescue them, also died with them. Cosmo finds that his house is haunted by their ghosts and that of their alcoholic St. Bernard. Anne Jeffreys and Robert Sterling were married in real life. Only Cosmo can see or hear them.
---
BRAND NEW COLLECTION

ALL REGION DVD's
12 Volume DVD Set
Brand New/Shrinkwrapped
Shows have been compiled from various sources including
Broadcast to complete this Deluxe Collectors Edition.
Collection comes in DVD cases with Show Titles on Each Disc
The Collectors Edition includes the following Shows

DVD 1

Meets the Ghosts
Hiring the Maid
The Hypnotist
The Spinster
Bank Securities


DVD 2

The Kid
Burglar
Uncle Jonathan
Car Story
Masquerade


DVD 3

2nd Honeymoon
The Socialite
The Surprise Party
Decorating
Astrology


DVD 4

Legacy
Goes to Las Vegas
Topper Goes West
Sweepstakes
Package


DVD 5

The Wedding
Preparations for Europe
Theatricals
Topper's Story



DVD 6

County Fair
The Seance
The Chess Player
Topper Goes to Washington
Topper Lives Again


DVD 7

Topper's Hits the Road
Topper at the Races
Topper's Amnesia
Topper's Arabian Night


DVD 8

Topper Makes a Movie
King Cosmo the First
Topper Fights a Duel
Topper Egyptian Deal


DVD 9

Topper's Uranium Pile
Topper's Desert Island
The Neighbors
Topper's Other Job


DVD 10

Topper's Counterfeiters
Reducing
The House Wreckers
Topper's Spring Cleaning


DVD 11

Topper's Double Life
George's Old Flame
Henrietta Sells the House
The Proposal
Trip to Lisbon


DVD 12

The Blood Brother
Topper's Insurance Scandal
Topper Goes to School
Quarantined
Topper's Highland Fling



All Shows are in the Public Domain
---
Now on Sale for Only $39.99
Order this 12 DVD Collection for Only $49.99
Still to Much? Check out the Budget Sets
---
---
PayPal, Checks and Money Orders are accepted!
For Questions or the Mailing Address to send payment
Pay us securely with any major credit card through PayPal!